Bus fire victim Dawud Burbank was prominent Muslim author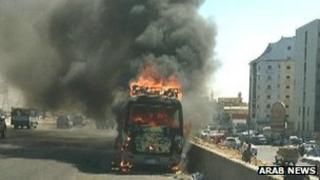 A Birmingham man who died with his wife in a bus fire while on the Hajj pilgrimage in Saudi Arabia was a prominent Islamic author, it has emerged.
Dawud Burbank and his wife Khalida Begum Dost were on their way from Jeddah to the Muslim holy city of Mecca when the bus they were in caught fire.
The 49-year-old was described by the director of his mosque as "one of the best, if not the best" Western translator of Arabic texts.
Abu Khadeeja, of the Salafi Mosque in Small Heath, Birmingham, said Mr Burbank had translated hundreds of religious manuscripts from Arabic into English.
"He was a very respected man, a very well-liked man, a very learned man," he added.
Other worshippers from the mosque were also on the bus at the time of the fire, but are believed to have escaped without serious injury.
'Very humble'
Abid Hussain, from the Association of British Muslims, said Mr Burbank had converted to Islam from Christianity 20 years ago.
"He's put a lot of hard work and effort into studying Islam, learning the Arabic language," he said.
He said Mr Burbank was also well respected as a teacher and had spoken at mosques and conferences across the world.
Matthew Cooper, head teacher of the Salafi Independent Primary School in Small Heath, said he was a good friend of Mr Burbank.
He described him as a committed family man and a devoted worshipper.
The couple had several children and Mr Cooper said Mr Burbank had spoken of his excitement at his plans to take two of his sons on the Hajj.
"He was a very kind and very gentle person, very humble," he said.
"The effect he had... you wanted to be with him and he will be greatly missed."