Birmingham couple killed in bus fire buried in Mecca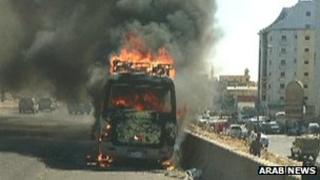 Funerals have taken place for a Birmingham couple killed in a bus fire in Saudi Arabia, the BBC understands.
Dawud Burbank and his wife Khalida Begum Dost, were travelling to Mecca to take part in the Hajj pilgrimage.
The bus was in the outskirts of the country's second largest city Jeddah when it caught fire.
Director of Birmingham's Salafi Mosque Abu Khadeejah said the couple had been buried in Mecca in the early hours of the morning.
The couple were travelling with other passengers from the Salafi Mosque in Small Heath at the time of the fire.
The BBC has been told other members of the group escaped without serious injury.
The Society of British Muslims said the community had been "moved" by the couple's deaths on Monday.
'Best translator'
The British Embassy in Riyadh said the fire was not being treated as suspicious as it was thought the engine had overheated.
The driver managed to stop the bus and most passengers escaped unharmed.
Mr Khadeejah, said Mr Burbank, 49, was an academic researcher within the Salafi community and had translated hundreds of religious texts from Arabic into English.
He said he had known Mr Burbank for 20 years and added: "He was a very respected man, a very well-liked man, a very learned man.
'Very excited'
"He was well known and one of the best, if not the best, in the West in terms of translating Arabic manuscripts into the English language.
"It is a sad time for the community and we will pray for them and their families, who have suffered a great loss."
Matthew Cooper, head teacher at the Salafi Independent Primary school in Small Heath, said Mr Burbank had been excited about the prospect of taking two of his sons with him to Mecca.
Mr Cooper said: "We were talking about the last time he made Hajj, which as far as I'm aware was about eight years ago, and he was very excited about going on Hajj.
"He was also taking two of his sons with him and one of the sons was with us on Friday night."
Tens of thousands of British Muslims make the journey to Mecca for the annual Hajj pilgrimage attended by about two million Muslims from across the world.
The Hajj is the fifth and final pillar of Islam, which every adult Muslim is expected to undertake at least once in their life if they can afford it and are physically able.