Bromford Support group urges more help for gang members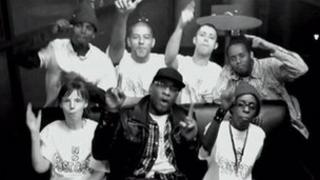 A West Midlands group that helps disadvantaged young people says a government plan to address gang culture needs more focus on gang members.
The Department for Work and Pensions aims to tackle 120,000 problem families in England and Wales, in some cases intervening before a child is born.
John Wade from Bromford Support in Wolverhampton says the plan shifts "the spotlight away from the gangs".
Mr Wade believes more help should be given to existing members.
He added there was a need to "really put an emphasis on supporting people who want to get out of the gangs and who want to turn their back on gang involvement".
"We've worked with predominantly young men, most of them were actually in prison, and we were building relationships with them to help them when they came out of prison and break away from that gang culture.
"It's a very difficult thing to do.
"We need to switch off the supply of new recruits into the gangs so that the gangs themselves become isolated."
Parenting support
As part of the plans, Home Secretary Theresa May has also said gang members trading in guns could face life in jail.
She says there is no "one size fits all model" for tackling gangs but that the government needs to "get a grip" on membership and prevent children becoming involved.
"It may be support to parents in terms of how they bring up a child."
West Midlands Police has said 45 urban street gangs operate in the area and is setting up a task force to tackle them.
Mediators and police have said the gang problem peaked in about 2003, at the time when two teenage girls died in a botched gang attack.
Letisha Shakespeare, 17, and Charlene Ellis, 18, were shot outside a party in Aston, Birmingham, on 2 January 2003.
Last month Bromford Support launched their "No Postcodes" video campaign, so named because many inner-city gangs are divided into postcode area.
Mr Wade felt it was "a prime example of the positivity that can result when young people are empowered to break the trend of their circumstances".