Wednesbury alcohol raid 'would have cost economy £800K'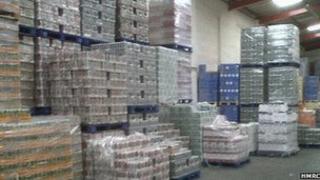 A raid by HM Revenue & Customs (HMRC) has led to 1.7m cans of beer and bottles of wine being found on an industrial site in Wednesbury.
HMRC said the goods were found at five factory units during what it believed to be the largest ever alcohol raid in the West Midlands.
Around £50,000 was also found hidden in a shoe box in one of the offices.
Jennie Kendall from HMRC said: "The revenue loss on the goods would have deprived the UK economy of £800,000."
"The effect on legitimate traders would have been devastating at what is their busiest time of the year," Ms Kendall said.
She added that the alcohol was found in 900 pallets and was ready for mass circulation.
The raid was part of a campaign by Sandwell Police, Sandwell Council and HMRC.