West Midlands riots sentences were 'missed opportunity'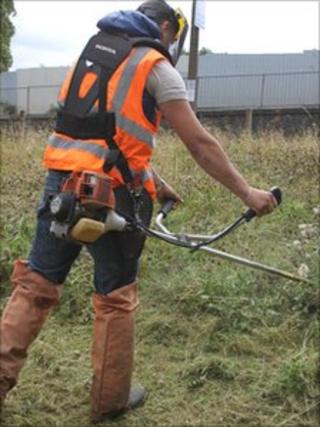 Prison sentences handed out to rioters were a "missed opportunity" to make looters and vandals repair the communities they damaged, the Staffordshire and West Midlands Probation Trust has said.
Hundreds of people were arrested following the riots in August that spread from London and affected parts of Birmingham, Wolverhampton and West Bromwich.
However, most have been given jail sentences, meaning very few people have been sentenced to community service orders in the West Midlands.
Ali Bell, from Staffordshire and West Midlands Probation Trust, said: "We've got only a handful of offenders.
"We were expecting a lot more. Because of the nature of the crimes they had committed you'd expect them to be dealt with by way of community orders.
"But that obviously hasn't happened."
'Habits from inside'
One hundred days on from the disorder, West Midlands Police has so far arrested about 690 people in connection with the looting and riots.
In total, the Ministry of Justice said 1,984 people had appeared before courts by 12 October.
Of those, 551 people were found guilty and sentenced to an average of 12.5 months in prison.
Ms Bell said short term prison sentences gave the probation service no opportunity to work with inmates on their offending behaviour.
She said: "If they do happen to have courses at their prison, it is very unlikely they will get enrolled and be able to complete the course before they are released.
"First-time prisoners often lose their jobs and their accommodation - two factors that have a big impact on the likelihood of offending.
"In prison, they can also come into contact with more experienced criminals."
Communities Secretary Eric Pickles previously said tougher sentences would show there were consequences to last summer's disorder.
In August the Conservative MP for Brentwood and Ongar said: "We need to understand that people for a while thought that this was a crime without consequence - we cannot have people being frightened in their beds, frightened in their own homes for their public safety.
"That is why these kind of exemplary sentences are necessary. I think people would be rightly alarmed if that incitement to riot got off with just a slap on the wrist."
'Was prison the answer?'
David Taylor, from Brownfield Allotments Association in Shard End, manages offenders serving community orders.
He said he thought the riots were "utterly disgusting".
He added: "It was criminals who thought they could get something for nothing and my first reaction was 'lock them up in prison and throw the key down a well' but when you rationally think about it, I am not sure prison was the answer.
"With community payback they could have repaired some of the damage they caused and it would have given them some discipline, having to get up in the morning to do some work.
"And they would have mixed, not just with their own little set, but mixed with people with other values and I am sure that would rub off on them.
"I'm sure that would have been more benefit to the community and more benefit to them.
"Sometimes justice needs to be seen to be done, and if these people were seen to do community work in their fluorescent jackets that would help heal some of the community's wounds."
Mr Taylor said one of the offenders he taught basic carpentry skills to went on to be accepted for a carpentry apprenticeship.
"He said while he was here the light just came on for him and he realised he wanted to be a carpenter and that he had become an apprentice," he said.
"I was totally made up. Something like that makes everything worthwhile.
"Most of these people are fairly young. I am sure they are young enough to learn and can go on to become decent citizens, and that's part of our role too in society, not just to punish but to help reform."
A spokesman for the Ministry of Justice said magistrates and judges were independent of the government and made their sentencing decisions based on the individual circumstances of each case and offender.