Family of Birmingham child migrants return to city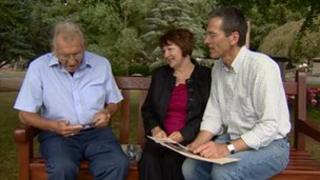 "This is unbelievable, I can see the family resemblance."
Barbara Hogan and her cousin Gary Roberts were meeting their 75-year-old uncle Derek Wyre for the first time.
They were not even aware of his existence until just a few weeks before.
The cousins had travelled from Canada to Birmingham to find out why their parents were among 6,000 children sent from the city to "a better life" abroad.
Between 1873 and 1952, children suffering neglect and extreme poverty were sent via the city's Middlemore Emigration Home to Australia and Canada.
'Measure of forgiveness'
Seeing the family records and visiting the former children's home on St Luke's Road was an overwhelming experience for Ms Hogan.
"It gives me a much better perspective on perhaps the reasons behind what happened to my dad, the sadness in his life and how he couldn't overcome it.
"I have to have a measure of forgiveness that he couldn't give me what he hadn't been given himself.
"Alcohol took over for him, he just couldn't handle it."
The government's Child Migration Programme sent out some 130,000 children from Britain to former colonies between the 1920s and 1960s.
In February 2010, then Prime Minister Gordon Brown apologised for the UK's role in the scheme, during which thousands of children suffered abuse in their new homes.
While the seven Wyre children who were shipped to Canada in 1924 had a better experience than many others, they were still separated for decades.
Ninety-year-old Beatrice was the youngest, and last surviving, of the Wyre children.
'Expensive cigarettes'
As she was unable to travel, her son Gary Roberts said he had made the trip to find out why his mother was removed from her parents.
"I'd describe our family as a puzzle and a mystery. There are still missing pieces to the puzzle," Ms Hogan said.
Records kept by the Middlemore Charitable Trust were very detailed and a visit to Birmingham Central Library revealed the circumstances in which the Wyre children were separated from their parents.
"The children have been greatly neglected. The house is practically devoid of furniture. The mother sits in the house all day smoking expensive cigarettes," the records from 17 May 1924 read.
"John Middlemore truly believed they were doing the right thing for the children," said Reg Corns, a Birmingham City councillor and former Middlemore child.
The charitable trust set up in 1872 by Sir John Middlemore set out to "improve the life chances of children, who, through no fault of their own, found themselves in the midst of desperate and deteriorating family relationships".
The mother Kate Wyre had spent time in Hollymore Asylum, near Rubery, Worcestershire, before the children were removed.
She spent much of the rest of her life in institutions, dying at Powick Psychiatric Hospital, in Worcestershire, in 1969.
At the time the children were sent abroad, the father Horace Wyre was very ill, but went to make a recovery.
After his wife was hospitalised he remarried and had three more children, including Derek Wyre.
Derek, who thought he was the last surviving child of Horace Wyre, described it as "unreal" to see a photo of his surviving half sister.
Watch more on this story on Inside Out in the West Midlands, BBC One, Monday, 19:30 GMT.