Birmingham riots: Police authority calls for insurance law change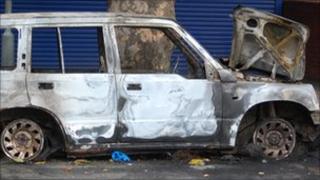 Police authority leaders have called for a change in insurance law after they faced claims of £5m for damage caused in August's Birmingham riots.
West Midlands Police Authority said that under the 1886 Riot Damages Act, it was liable to pay for damage to buildings and their contents in a riot.
The authority then bids for money to be paid back to it by the Home Office.
Police authority chairman Derek Webley said they were costs "that should be borne by insurance companies".
He added: "The Act needs to be repealed and we'll be working with MPs within our locality to see if we can try to address this issue."
James Morris, the Conservative MP for Halesowen and Rowley Regis, said he agreed with Mr Webley.
Mr Morris said: "We don't want to be in a position, if it can be avoided, where the police authority has to tap into its reserves to compensate these businesses.
'No guarantee'
"We need to make sure that [the authority] makes that grant application and that we keep pressure on the Home Office."
A report to a meeting of the police authority on Thursday warned there was "no guarantee that the cost of these claims will be reimbursed".
Any costs not covered by a Home Office grant will have to be paid out of the authority's budget for this year.
Many insurance companies do not have to pay out because of clauses saying that damage to shops and homes caused by riots is not covered.
The Home Office said people affected by the riots were able to claim from their insurance company and the firms could then claim from the police authority, which would assess those claims.
The report also states that claims of more than £2.5m for the cost of "business interruption" during the riots will not be paid.
External loss adjusters are being brought in by the police authority at an estimated cost of £50,000 to advise on higher value or more complex cases.
It said it had also set up a special panel to make decisions on payments "as quickly as possible".