Occupy Birmingham asked to leave Victoria Square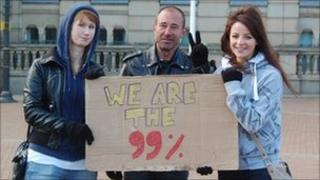 Birmingham City Council has called on protesters occupying the city's Victoria Square to leave within seven days.
The campaigners pitched their tents on 15 October as part of the "Occupy" movement that has spread from New York since September.
The Occupy Birmingham group claims to be campaigning against issues ranging from inequality to corporate greed.
The council wants to reclaim the site for imminent public events.
The annual Frankfurt Christmas Market starts in the city on 17 November.
When the group first arrived in the square, unemployed campaigner Symon Bailey, from Sutton Coldfield, said he felt he had to protest at the current unemployment situation.
'Reclaim the site'
He worked as an immigration officer for the Home Office until he lost his job three years ago.
"We want to be part of the conversation, we want to see change in the interests of the many and not just the few," he said.
"Don't just dismiss us as social outcasts and unemployed."
In a statement, the council said: "We can confirm that this morning the city council asked the people occupying Victoria Square to vacate the site by noon on Thursday 3 November.
"We have done this in order that the council is able to reclaim the site for public events and use.
"In order to give occupiers reasonable opportunity to make arrangements to leave the site, we are giving them seven days' notice.
"Where appropriate we are also offering help from council support services, such as our homeless team, should they require it."