Birmingham-to-Chicago flight 'should be re-introduced'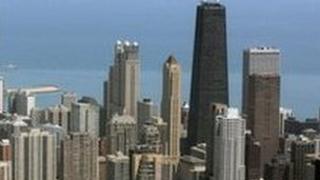 Representatives from Birmingham have pressed for flights to be reintroduced between the city and Chicago.
Bosses from Birmingham City Council and Birmingham Airport have met with senior managers from United Airlines and the Chicago Aviation Commissioner.
In 2002, it was reported the flights were stopped because operator American Airlines said business people were favouring Heathrow.
Birmingham and Chicago have been "sister cities", since 1993.
The council said the meeting looked at the economic, social and tourism case for reintroducing flights.
A delegation of civic, business and education organisations from Birmingham is also in Chicago to promote closer links and investment opportunities.
A council spokesman said re-establishing the route would not only save time for businesses already engaged in trans-Atlantic activity, but boost the appeal for new ventures and relationships to be made,
Talks 'delightful'
Councillor Mike Whitby, the council's leader, said: "As leading global cities which play a key role in driving the economies and international business activity of the UK and US respectively direct point-to-point connectivity is needed.
"I am delighted by these talks and I am so encouraged by the progress that we have made with the promise of an even stronger and growing relationship with United."
He said the airline was "willing to consider" more business in and with Birmingham.
Charles Duncan, vice-president for sales at United Airlines, said: "It was good to meet the Birmingham delegation.
"It is clear to me that the leadership understands the importance of aviation and the positive impact it can have on regional growth.
"We review development opportunities on an ongoing basis, including our UK regional services."
According to Birmingham council, the USA is the largest inward investor to the West Midlands, investing £2bn since 2003.
More than 350 North American companies, including Microsoft, Motorola and Kraft Foods provide employment for 60,000 people in the area.