EDL Birmingham demo location moved by police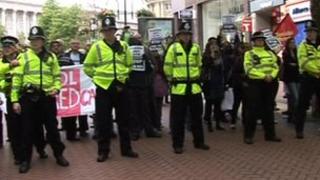 West Midlands Police have agreed to move the location of an English Defence League (EDL) demo planned for Saturday.
A static demonstration was to take place in Victoria Square in Birmingham, but councillors were critical of police for allowing it to go ahead there.
The Royal British Legion (RBL) has also moved the launch of its county Poppy Appeal in the city centre from Saturday to Friday, the council said.
The demonstration will now be held in Centenary Square, police said.
A similar EDL protest two years ago ended in violence between the group and anti-fascist protesters holding a counter-demonstration.
'Unilateral decision'
Anti-fascist group Unite Against Fascism (UAF) is one of a number of groups taking part in a "Unity" community event at the weekend to demonstrate the diversity of the city.
The event is being supported by multi-faith groups including Muslims, Sikhs, Jews, Christians and unions.
Police confirmed a "community event" was due to be held in Chamberlain Square.
Councillor Alan Rudge wrote to the chief constable of West Midlands Police on behalf of the leader and deputy leader of the council to convey his "astonishment" at the "unilateral decision" that the demo was to go ahead in Victoria Square.
Councillor Waseem Zaffar, councillor for Lozells and East Handsworth, also wrote to the council and police to ask for it to be moved.
He said he feared there could be a repeat of the violence of 2009 if the demonstration was not moved.
'Ensure safety'
"I don't think here in Victoria Square is most ideal location," he said before the decision to move the demo.
"It's possibly the most prominent place in the city.
"It was a place.. where the EDL were protesting in 2009 and I think we need to find another place, maybe on the other side of the city centre, rather than this particular place."
There are also two football matches in the area on Saturday - Birmingham City host Brighton and West Bromwich Albion meet Liverpool.
"Police will be carrying out an operation to ensure the safety of the public and protesters on the day at both [protest] events," a spokesman said.