Meriden travellers lose greenbelt appeal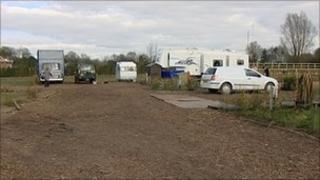 Travellers have lost their appeal to stay on greenbelt land in a West Midlands village.
They applied for retrospective permission to build eight permanent pitches for their caravans on land in Eaves Green, Meriden.
Solihull Borough Council refused planning permission and the appeal has upheld the council's decision.
Campaign group Residents Against Inappropriate Development (RAID) said it is "relieved" at the decision.
RAID's chairman David McGrath said: "We're relieved the Secretary of State agrees with local residents and the council that this is an unlawful unsustainable development that is causing daily harm to the greenbelt."
Eric Pickles, The Secretary of State for Communities and Local Government, said he agreed with the planning inspector's opinion that the travellers' development "would cause significant harm to the character and appearance of the area".
Mr Pickles also agreed with the inspector that there remained an "immediate and identified need" for additional travellers pitches in the borough.
The travellers previously said there was inadequate provision for them in the area.
Constant protest
Villagers started a protest on 1 May 2010 when a group of up to 50 travellers began developing the site and Raid fought the development through the courts.
Residents say they will be holding a 24hr vigil until all the travellers have gone, following the outcome of the appeal.
The decision does not mean the council can evict the travellers from the site.
Councillor Ken Meeson, leader of Solihull Borough Council, said the council welcomed the decision.
He added: "Clearly this has been an emotive issue, but at the heart of our planning decision has been the need to protect the greenbelt from inappropriate development.
"We recognise that traveller families need to have somewhere to go, and both the planning inspector and the secretary of state have outlined the need for further traveller pitches within the borough.
"We have recently carried out an exercise inviting the public to suggest possible sites. These will be looked at and assessed for suitability and consulted on, before any decisions are made."
He said the council would now look to enforce the decision.
Mr McGrath said previously the group wanted to make the issue a test case to influence traveller planning policy across the country.