Birmingham Prison inmates locked in cells after key loss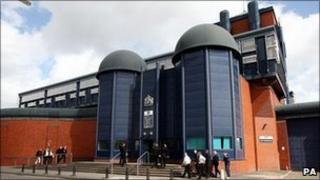 Birmingham Prison inmates were locked in their cells for almost a full day after a set of keys fitting every cell door went missing.
Keys to the jail, which was taken over earlier this month by private security firm G4S, disappeared on Tuesday.
The firm said all prisons had established contingency plans for incidents of this nature and there was no risk to public safety.
The jail is the first in the UK to be transferred to the private sector.
It is not known if the keys have since been found or what action is now being taken at the prison.
'Contingency measures'
A G4S spokesperson said: "All prisons have well established contingency plans to deal with incidents of this nature.
"Contingency measures are being followed at HMP Birmingham and there is no risk to public safety."
In July, G4S said said 123 jobs could be axed, mainly in management, operational support and administration.
The firm said the government "required savings" to be made, but the Prison Officers' Association said staff safety would be put at risk.
About 650 staff currently work at the prison, G4S said at the time, with about 1,400 prisoners kept there.