Ed Doolan wins award for contribution to broadcasting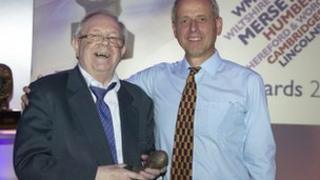 BBC WM presenter Ed Doolan has been given an Outstanding Contribution award for his work in broadcasting.
He was honoured at the BBC local radio awards which are known as the Gillard awards.
Named after BBC local radio founder, the late Frank Gillard, the annual ceremony showcases the best of the 40 BBC local radio stations in England.
Mr Doolan, who is 70, grew up in Australia and said it was always his ambition to be a presenter.
'Such a surprise'
"For a lad from New South Wales, who always wanted to be on radio, to find myself on radio, on the finest radio network in the world, I cannot tell you what that means," he said.
Mr Doolan began broadcasting in Birmingham in 1974 and joined BBC WM in 1982. It was here that he earned a reputation as a consumer champion.
He said that the award came as a total surprise.
"I had not got the faintest idea, I just didn't know, it was such a thrill, such a surprise.
"It was really nice; lovely how many colleagues from other stations made a point of coming over and being really kind," he said.
Mr Doolan is on air on Sunday mornings and Friday lunchtimes.