Wolverhampton Grammar School celebrates 500 years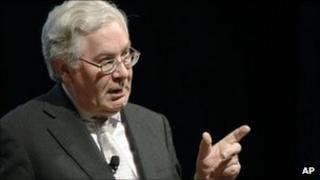 Wolverhampton Grammar School (WGS) is poised to celebrate its 500th anniversary later. BBC journalist Chris Blakemore, who attended WGS between 1983 and 1990, gives a brief history of the establishment.
WGS was founded in 1512 by Sir Stephen Jenyns, a Wolverhampton man whose fortune was built on the wool trade.
On becoming Lord Mayor of London in 1509, Sir Stephen was determined to give something back to his hometown.
And so in 1512, a school for the "instruction of boys in good morals and learning" opened in St John's Street in the heart of the then town, and WGS was born.
Today, as it approaches its 500th anniversary, the school is almost unrecognisable from what was established at its founding.
In 1875, after almost 350 years, WGS moved from its cramped location to its present premises on Compton Road.
Over the centuries the school role has grown so much that the balcony in St Peter's church, built in 1610 to accommodate the entire school of 60 boys, would now never cope with the 689 students currently at the school - a third of whom are girls.
Thomas Beech, headmaster in 1856, established the school's reputation for academic excellence which, under Warren Derry (1929-56) saw WGS named as one of the top grammar schools in England. Ernest Taylor built on that reputation during his short tenure in the 1960s.
During the last 27 years the school has become fully co-educational (girls first joined the sixth form from 1984, then as 11 year olds from 1991).
Former pupils include Mervyn King, the governor of the Bank of England, and BBC sports broadcaster Jacqui Oatley.
September 2011 saw the school open its doors to 87 children aged 7-10, as junior provision returned after an absence of 67 years.
To mark the anniversary on Friday, up to 500 balloons will be released by students as part of its annual founder's day service. Students will then walk from the Compton Road building to St Peter's church in the city centre.