Occupy 'anti-greed' protesters camp in Birmingham square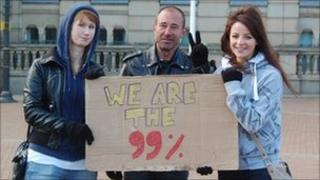 People protesting about "corporate greed" and the world financial crisis have set up a camp in Birmingham.
Protesters have pitched their tents in Victoria Square as part of the "Occupy" movement that has spread from New York since September.
Occupy Birmingham claims to be campaigning against many issues ranging from inequality to corporate greed.
Protesters said they would stay as long as it took to bring about change. The council said it was monitoring them.
Occupy Birmingham set up camp on 15 October to coincide with protests in city centres across the UK.
'Banks are getting richer at everyone else's expense'
Jonathan Hone, a 28-year-old political writer who describes himself as a professional protester, said: "At its highest there are probably about 60 people that come down here.
"There are about 10 people who camp overnight and we organise that on a rota system as some people have to go back to work.
"In part we are protesting against a banking system that serves only 1% of the global population to make them richer at everyone else's expense."
'Where are the billionaires in this crisis?'
Richard Village, a 19-year-old barber from Stourbridge in the West Midlands, said he met many people in the course of his work who were struggling to pay their bills.
"These are just normal, working class people, it's not right that they should be struggling to make ends meet and other people are so rich.
"I am not talking millionaires but billionaires, where are they in this crisis, what are they doing with all their money, why aren't they helping?
"I work 56 hours a week and I have been down here every day since it started, it feels really exciting being around such a great crowd and talking to complete strangers about something you believe in."
'You don't have to accept this'
Katie Woodroffe, a 23-year-old animal sanctuary education officer, from Aldridge, Birmingham, said: "This is the first day I have come down but I have been following it online on social networking sites.
"We just want to make people aware that they don't have to accept this.
"If we get enough people together we can make a change, like they did with their protests in Egypt."
'That's why I'm here representing myself'
Thomas Collins, 20, from Bartley Green, said he had joined the camp because conventional political parties could not represent him.
"I didn't vote in the last election because I understand that the system is rigged.
"The system is ruled by parties that serve greedy corporations. That's why I am here representing myself."
Mr Collins grew up in the social care system and said it was only as an adult that he felt he had a voice. He said he became politicised while watching MPs on TV debating in the House of Commons.
"I was sitting at home flicking around the channels and saw David Cameron debating with Tony Blair and I thought no, politics wasn't for me with these smart guys in suits so I flicked on to another channel.
"But I soon realised it was the most interesting thing on TV, so I started listening to what they were actually saying and thought that's not right.
"I didn't ask them to spend all that money on a war in Afghanistan when there are poor people at home that need looking after.
"I didn't ask them to bail out the bankers so they could keep getting richer. That's when I realised politics was for me after all and that it's about everything. I was 15 at the time."
'Don't just dismiss us as social outcasts and unemployed'
Symon Bailey, from Sutton Coldfield, worked as an immigration officer for the Home Office until he lost his job three years ago.
He said: "I have always felt this way, even before I found out what it was actually like to be outside the system.
"I don't want to be unemployed but I can't get a job. A philosopher once said if you want a job, ask for a job, if you want bread ask for bread.
"I have asked for a job and I have asked for bread and now there's no bread so I have no choice except to protest.
"We want to be part of the conversation, we want to see change in the interests of the many and not just the few. Don't just dismiss us as social outcasts and unemployed."
Birmingham City Council said: "Everybody has the right to peaceful protest."
It said the area the protesters were occupying was a public space and the council was consulting police and monitoring the situation on a daily basis.