'End of an era' after four decades at BBC Birmingham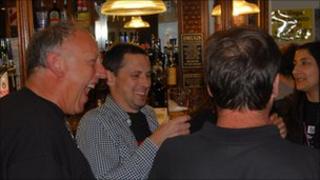 "I built my life around this, my work, my friends, I even met my wife here. And now I can't believe it's not going to be there anymore, that I won't be able to just pop in and say hello because it's all moving.
"It's the end of an era," said John Duckmanton, a post-production worker at BBC Birmingham.
About 100 BBC staff working in factual TV programming at the Birmingham Mailbox site learned on Thursday their programmes - and jobs - would be moved to Bristol.
The move is part of cost cutting measures, branded Delivering Quality First, announced by the corporation's director general Mark Thompson.
Mailbox staff currently produce Gardeners' World, Countryfile, The Sky at Night, Points of View, Coast, Hairy Bikers, See Hear and coverage of the RHS flower shows.
In the past 15 years their programme-making has been reduced from 25 shows to eight.
And staff were told on Thursday their remaining programmes would move during August and September next year.
Mr Duckmanton is one of about 35 people working in programming post-production at the Mailbox. The 59-year-old said he expects the announcement to mean redundancy for him.
He said: "There is no post-production in Bristol because it's all done on a freelance basis. I was due to retire in a few years anyway, it's the others I feel sorry for, the younger ones.
"They have to decide whether to move their whole lives, their children and their homes to Bristol, with no guarantee they will get any work."
When he joined the BBC in 1970, aged 19, Mr Duckmanton thought it was a job for life, he said.
Armed with physics and maths A-levels the teenager from Leicestershire was taken on straight from college as a BBC technical assistant.
He trained at the BBC's technical centre in Wood Norton, Evesham, before moving to its three Birmingham production bases in Broad Street, Carpenter's Road, and Gosta Green, which is now part of the Aston University campus.
'Like a commodity'
Within a year operations had moved to a single, purpose-built site at Pebble Mill in Edgbaston. There he met his wife Dawn who was working at the time as a secretary in the operations department.
"Pebble Mill was a wonderful place to work, that is where friendships were really formed. Everyone got to know everyone else in the canteen because we were all on the one site.
"It was really exciting, there was a real air of creativity and experimentalism, we saw it as a challenge. If someone came up with an idea, we would get it on air.
"Sometimes it didn't work, but more often than not it did," he said.
From that experimental culture came popular programmes such as The Clothes Show, Top Gear and Pot Black, which was the first time snooker had been shown on TV.
Among the programmes that never made it to air was a primitive model for Big Brother in the late 70s in which camera crews filmed a group of celebrities together in a studio and eavesdropped on their conversations.
For Mr Duckmanton the move is returning full circle, splitting up production sites again between the BBC Drama Village, based at Birmingham University, and the BBC's site in Whiteladies Road, Bristol.
"It's not such a wrench to leave the corporation," he said. "In the beginning we were treated well but now I feel more like a commodity.
"No, it's the people it's hard to leave and the social aspect. We all get together in the Craven Arms or another pub after work and have a drink."
'More focused'
Michele Paduano, Midlands Today's National Union of Journalists representative said: "It's the end of Birmingham as a major, national, programme-making centre. It continues the decline from Pebble Mill and Birmingham is losing out to Bristol and Manchester. The people of the West Midlands shouldn't stand for it."
The BBC press office said "over 100 [Birmingham] posts will be impacted by these changes" and said about 60% of factual staff would be offered jobs in Bristol.
The BBC said the plan was part of its commitment to put quality first, working within its parameters of the current licence fee settlement.
Mr Thompson said: "The BBC of 2017 will be a smaller, more focused organisation but one better placed to take advantage of the digital future and completely committed to delivering the highest quality content for all audiences."