Birmingham take-off for Thomson Airways cooking oil plane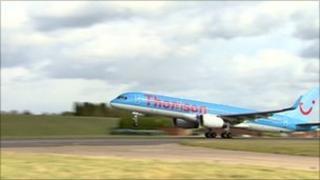 Britain's first commercial flight, powered by sustainable biofuel, has taken off from Birmingham Airport.
The Thomson Airways Boeing 757 used a 50/50 mix of used cooking oil and traditional aviation fuel.
Thursday's 14:25 BST flight to Lanzarote, with 232 passengers, will initially be a one-off, to allow a regular supply of oil to be sourced.
Thomson Airways said the scheduled flight would use biofuel on a daily basis from 2012.
Before then the company hopes the cost of biofuel can be brought down.
The flight was fuelled with 6,000 litres of processed cooking oil, costing almost £14,000 - four times the cost of the equivalent jet fuel.
Paul Kehoe, chief executive of Birmingham Airport, said: "Someone's got to be first and when you're first the experiments tend to be expensive.
"Once you ramp up production, the costs come down and more importantly the CO2 emissions come down."
'Normal flight'
The flight was originally scheduled to take place in July, but had to be delayed due to fuel delivery problems.
Thomson Airways said that in every other respect it would be a normal flight and passengers should not notice a difference.
The use of biofuels has already been tested by Boeing and several other airlines around the world have recently trialled similar flights.
In 2008 Virgin Atlantic flew a passenger-less Boeing 747 between London and Amsterdam powered partly by biofuel as a demonstration of the technology.
Biofuels come from many sources and those derived from waste products are considered to be some of the most sustainable.
Environmental campaigners have warned that some plant-based biofuels are responsible for producing even more carbon dioxide emissions than fossil fuels.
"We're going to have to fly less if we want to reduce emissions, there's no other way around it," Joe Peacock from Friends of the Earth said.