Inner city Birmingham High Street bucks retail trend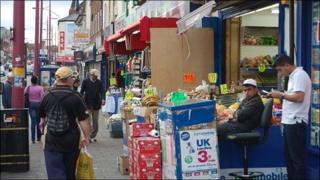 As shoppers walk through the Bull Ring in Birmingham city centre, brightly coloured signs vie for attention in the windows of big chain stores, advertising up to 70% off in their mid-season sales.
Along New Street and Corporation Street several premises stand empty. They had until recently been occupied by clothes shops.
In the Mailbox complex, which is home to Armani and Harvey Nichols, several units lie empty.
It is a scene that is familiar in many town centres around the UK.
Wage costs
But three-and-a-half miles away from the city centre, in Soho Road, Handsworth, the picture is quite different.
More stores are opening and there are very few sales signs.
Homewares and fruit and vegetable stalls spill on to the pavements and most of the shops are independent, family-run businesses, serving the predominantly Asian and African-Caribbean residents.
Jeweller Dipak Patel is chairman of Handsworth Traders Association and said year-round sales promotions were unnecessary for independent stores.
He said: "Multiples have to order stock six to 12 months in advance.
"We buy stock when we need something, from month to month or quarterly, which means we can be more responsive to what customers want and it means we don't end up with lots of leftover stock that we have to discount to get rid of.
"Multiples find it difficult to reduce their fixed costs, especially when the largest cost is wages.
"When it's family members working for themselves you agree to take less wages because you want your business to survive. You can't ask hired employees to do that."
'Family values'
The number of shopkeepers in Soho Road and its adjacent streets has risen from about 215 since the start of the recession to 240 to date, Mr Patel said, with independent city centre traders moving to Handsworth.
Gurmit Singh, whose family has run C&S Home Stores since 1974, said: "It's hard for everyone along here but it's the family values that keep us going.
"Our customers know us and we know them. We can have several generations of the same family shopping with us."
His sister Ravi said: "People come in and ask for a discount and we can negotiate a deal if it is appropriate. These are community shops and we are part of that."
Azhar Qayum, who runs a carpet and furniture store in Soho Road, said he believed another factor was that customers in Handsworth were less reliant on credit for their purchases.
Mr Qayum, who is the Birmingham representative of the Muslim Association of Britain, said: "We found when the credit crunch hit that sales in our store in Kidderminster were horrendous, our takings were down by 80% and we had to close the branch.
"In Soho Road we have seen sales fall but only by about 15 to 20%.
"In our Worcestershire store most of our customers bought sofas and carpets on credit card, whereas here most of our customers are Asian or Afro-Caribbean and they pay for their goods outright in cash."
Richard Dodd, from the British Retail Consortium (BRC), said Mr Qayum's credit theory was "not something we recognise".
He said: "People aren't buying as much because the cost of living is going up, they are worried about their jobs, fuel bills are rising.
"People are least likely to be buying furniture, carpets and electrical goods.
The sectors that are doing the best are food and then clothing."
Aggressive promotion
He said nationally, in like-for-like sales that strip out the impact of sales at new stores, overall sales fell by 0.6% in August compared with the same period in 2010.
"Retailers are having to discount and promote aggressively to get sales, but there's a limit on how much they can do that because they've still got overheads."
The Local Data Company, which tracks the UK High Street, said 22.5% of the retail and leisure units in the Birmingham city centre, within the inner ring road, were left vacant in August.
It said Handsworth had about 11% of units empty in July.
Retail Birmingham, which is part funded by the city council and represents the city's core retail area, said: "Despite a challenging economic climate Birmingham city centre footfall has managed to buck the national trend this year with figures on average up by 4.1% compared to a national average of 1.1%.
"The city centre retail area continues to attract a high level of footfall with over one and a half million visitors per week."