Birmingham's child protection services have 'improved'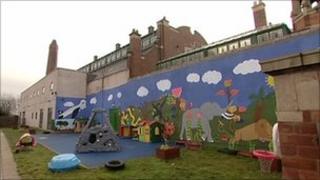 Birmingham's Safeguarding Children's Services are improving, despite facing another serious case review, the chairman of a watchdog has said.
The service faces a review into its handling of six nursery employees' concerns about a co-worker who was later convicted of rape and grooming.
Its effectiveness was also rated as "inadequate" by Ofsted in 2010.
Outgoing watchdog Hilary Thompson said, the serious case review apart, the service had improved since last year.
From January 2009 until July 2011, Mrs Thompson was the independent chairman of Birmingham Safeguarding Children's Board that scrutinises the provision and delivery of Birmingham's Safeguarding Children's Services.
'Lasting effect'
It is common practice to replace the chairman after 18 months and Jane Held has been appointed as Mrs Thompson's successor and starts in the role on Friday.
Mrs Thompson said: "I was confident when my contract came to an end that I had left it in a better state than when I joined and I think the changes and work being done now will have a lasting effect."
She said one of the biggest changes had been restructuring the management system to divide the city into smaller localities and make children's services managers more hands on.
"I have no doubt they are doing the right thing and I would expect to see these improvements noted by Ofsted in their next report," she added.
Mrs Thompson said leadership had also improved dramatically at the service since January after Eleanor Brazil took over as strategic director of Birmingham City Council's Children, Young People and Families department.
She said the safeguarding board's role was to seek assurances the right things were being done in the service and the board was confident it now had the right management that was focused on improvement.
In July 2010, Ofsted said of the service: "The overall effectiveness in safeguarding is inadequate."
Birmingham Safeguarding Children's Board was also criticised by Ofsted for its preoccupation with the 20 SCRs it has undertaken in the past four years, at the expense of providing professional leadership.
Nursery rapist
A further SCR has been started into the service's handling of six nursery workers' complaints about the behaviour of Paul Wilson from Nechells who later admitted to grooming girls on the internet and to having raped a toddler in his care during the 18 months he was employed by The Little Stars Nursery in Birmingham.
Mrs Thompson said she could not comment on the SCR but added: "Sometimes tragedies are not preventable. Although there are always lessons to be learned."
She said she had overseen an improvement in the quality of the SCRs being performed but it was important not to lose sight of their purpose.
"They do take a lot of time and for the partner agencies too and we need to make sure we are not putting all our energy into doing them rather than learning the lessons from them."
Looking ahead she said the board's role was to ensure the city council's Conservative and Liberal Democrat coalition did not make cuts, due to funding pressures, that would undermine the progress it had already made.