Kingsley Brown death: 'No closure' for family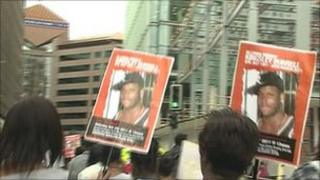 Seven months after a 29-year-old man died in a West Midlands hospital his family are still waiting to hear how he died.
Kingsley Brown was detained under the Mental Health Act in March after West Midlands Police officers attended an incident on Icknield Port Road, Birmingham.
Mr Brown was transferred to a unit in the city and then moved to a hospital where he died four days later.
The Independent Police Complaints Commission (IPCC) is conducting an investigation while a separate inquiry is being carried out by Birmingham and Solihull Mental Health Trust.
Mr Brown's 28-year-old sister, Kadesha Burrell Brown, who organised a march to West Midlands Police headquarters in July in memory of her brother, told BBC News the family had "no answers and no closure".
Because of the IPCC investigation, Mr Brown's body has not been released by the coroner so no inquest can be held and the family do not yet know his exact cause of death.
Ms Burrell Brown said the family go to the coroner's office in Birmingham once a month to be updated on the case.
She said: "We are being kept in the picture but the way it is unfolding is that until the IPCC investigation is completed and they decide on whether to bring any criminal charges or not, we have no answers ourselves.
"They [the IPCC] told us it could take about six to nine months and we are in the seventh month now - it's been going on for so long and this kind of thing can take years.
"We want to know what happened so we can put the pieces of the puzzle together."
After Mr Brown's death, West Midlands Police said the force was to be investigated by the IPCC "following the death of a 29-year-old man who had had dealings with the police".
Officers attended an incident in the Winson Green area of Birmingham on Sunday 27 March and detained Mr Brown under the Mental Health Act.
"Three days later, officers were called to support medical staff at a mental health unit in the same area of the city following reports of a disturbance involving the same man," a spokesman said.
"From there, the man was transferred to hospital but died the following day."
The force said it supported the IPCC investigation and did not "underestimate the impact this incident has had" on relatives and the community.
Ms Burrell Brown, a Birmingham University student, said her brother's two children, aged five and nine, had received counselling since his death.
She said she remembered her brother's "outstanding personality".
"I remember him as a quiet, collective person. He was never in a hurry, even the way he walked was slow.
"He had an outstanding personality once you got to know him.
"To hear about him being detained under the Mental Health Act was completely shocking.
"There is no history of it in the family, we were really surprised by that."
'Waiting game'
On 2 July she organised a march from Hockley to the force's headquarters at Lloyd House in the city centre.
She said the family has now been told one autopsy report has been completed but they are waiting for another to be completed.
"We accept if the IPCC bring charges then the inquest will be on hold," she said.
"It's just a waiting game - we're waiting to find out the timeline around his death. Until then, we have no closure."
A spokesman for the IPCC said: "To date around 100 witness statements have been obtained from medical professionals, ambulance staff and members of the public, and the vast majority of witnesses have already been interviewed by IPCC investigators.
"We have interviewed ten police officers relevant to the investigation who had some contact with Mr Burrell.
"Footage from CCTV cameras at four locations has been recovered and reviewed, and hundreds of documents have been seized as part of the independent investigation."