RSPCA launches Birmingham animal hospital appeal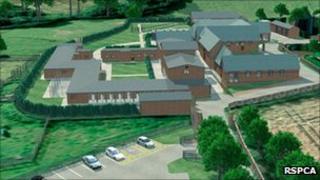 The RSPCA has launched an appeal to fund a new Birmingham animal hospital.
The £10m Frankley centre will replace the nearby Barnes Hill site, one of only four dedicated RSPCA hospitals in the country.
The appeal came as the charity announced the West Midlands was the only region in the country where cases of animal cruelty were on the increase.
Last year the RSPCA rescued 6,000 animals in the region, making it the busiest area outside London.
It said the new Frankley centre would provide improved facilities and allow it to rescue and treat more animals.
Rare breeds
It said 41,000 treatments were performed at Barnes Hill in 2010, but £1.2m had to be spent on private vets due to it reaching capacity.
The 72-acre site is being built at New Brook Farm, on the site of a former prison service rare breeds centre.
Work started in June and is expected to be completed in August 2012.
The charity said it hoped the appeal would raise £3m towards the new centre.
The sale of the nearby Barnes Hill hospital, built in 1962, will also contribute towards the cost.