UB40 given Music Heritage Award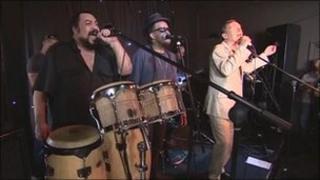 Birmingham reggae band UB40 has been honoured with a rare heritage plaque.
The Performing Rights Society's (PRS) Music Heritage Award celebrates the origins of some of the country's most successful bands and artists.
A plaque was unveiled outside the Hare and Hounds pub in Kings Heath, where the band first performed in 1979.
Band member James Brown said: "There aren't many permanent things in life but that's going to be there for as long as the building stands."
He added: "I'm really quite proud - it's great."
UB40 are the eighth act to receive the award, following Blur, Dire Straits, Jethro Tull, Squeeze, Elton John, Snow Patrol and Status Quo.
'Thanks for the venues'
UB40 performed an intimate gig at the pub before the unveiling.
Band member Robin Campbell said: "It's great to be back and lovely to celebrate here - it's a great venue."
Guy Fletcher from PRS said the awards not only celebrated bands and artists but also the role of live music: "This is an opportunity for us at PRS to say thanks for the venues because without these people bands couldn't get their start."
Formed in Birmingham, UB40 were named after the government's unemployment benefit form.
The band had success with hits such as Red, Red Wine, I Got You Babe and One in Ten.