Christine Hemming trial: What drove MP's wife to take cat?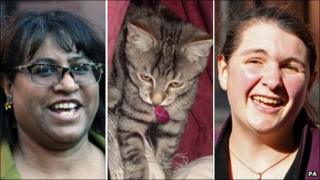 After 29 years of being married to a self-proclaimed "love rat", the wife of Liberal Democrat MP John Hemming finally snapped.
Having supported her husband as a Parliamentary assistant and raised their three children, she ran out of patience with his philandering in September 2010.
Fed up with her husband's ongoing relationship with his former personal assistant Emily Cox, Christine Hemming took matters into her own hands when she snatched a pet belonging to his mistress.
Jurors at Birmingham Crown Court found her guilty of burgling the Moseley property, which her millionaire husband had bought for her rival.
The court was shown CCTV footage of Hemming entering the house and leaving three minutes later clutching a four-month-old kitten.
'Love triangle'
In her defence, Hemming said the whole episode was "a blur" and added: "Everything just got out of hand."
The couple met at a party conference in Bridlington and were married in 1981.
However, their relationship deteriorated from 2004 when the Birmingham Yardley MP made the headlines by confessing to 26 extramarital "liaisons", the most significant of which was with Ms Cox.
The MP even entered himself into a News of The World competition for Love Rat of the Year in 2005.
His wife agreed at the time to make an exception for his relationship with Ms Cox.
She said the pair could continue to see each other provided her husband always returned to the family home at night.
But increasingly he spent more and more time with his mistress, who had given birth to his fourth child.
The details of their "love triangle" were the subject of intense scrutiny during the three-day trial.
The court heard how Mr Hemming moved Ms Cox into a property in Church Road, close to the family home he shared with Hemming and their children in Chantry Road.
'No recollection'
Hemming finally threw him out of the family home three days before she took Ms Cox's cat.
The 53-year-old, who already had five cats of her own, said she went round to Ms Cox's house last September with the intention of dropping off her husband's post.
Defence lawyer Gerald Bermingham argued that Hemming could not have been trespassing because the house had technically been paid for with her own money as she was Mr Hemming's wife.
She swore under oath she had no recollection of taking the tabby cat named Beauty, but remembered it brushing against her legs.
"I left holding a kitten - there is no doubt about that - but I have no recollection of picking the kitten up," she told the court, despite jurors being read the transcript of her police interview in which she gave a different version of events.
She had told officers: "Then this kitten comes up to me and rubs itself against my legs and basically I thought 'not only has he replaced me, he's replaced our cats'."
When she realised she had the kitten, she said she tried to return it by popping it under a fence in a street close to Ms Cox's home.
Mr Hemming said Beauty never made it back and the cat is still believed to be missing.