MP John Hemming's wife 'tried to return missing cat'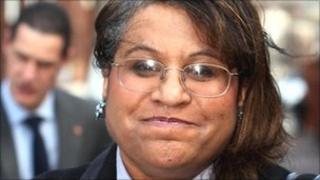 The wife of a Liberal Democrat MP who was filmed taking a kitten from the home of her husband's lover has told jurors she has no memory of the action.
Christine Hemming, wife of Yardley MP John Hemming, was filmed on CCTV taking the pet away from the Birmingham home of Emily Cox on 29 September 2010.
Mrs Hemming denies burglary. She said she was dropping off post and did not know there was a cat there.
She said she tried to return the kitten when she realised she had it.
'In a panic'
The 53-year-old, from Moseley, Birmingham, told the city's crown court: "Everything just got out of hand.
"I didn't mean to enter the property.
"I left holding a kitten - there is no doubt about that - but I have no recollection of picking the kitten up."
She told the court on Wednesday that she had taken seven letters to Ms Cox's home in Church Road, Moseley, after arguing with her husband on the phone.
She said: "To tell you the truth, I was very much in a panic. I put my hand on the door handle and it opened and I took some steps in.
"Then it just dawned on me like dread: 'Oh my God, I'm in the house'."
Mrs Hemming said she went into a downstairs bedroom where the four-month-old kitten, Beauty, then brushed against her leg, but she said she could not recall taking it from the property before she drove the short distance to her own home.
She said: "I don't recall taking the cat. I don't recall picking up the cat."
She said she later tried to return the pet by slotting it under the fence of a house in a street in Ms Cox's neighbourhood.
Mrs Hemming married the Birmingham Yardley MP in 1981 after they met at a conference in Bridlington.
She told the court her husband had had 26 liaisons since they married and that he finally left their marital home three days before the alleged theft.
She said she had only learned that her husband had a "love child" with Ms Cox from members of the media in April 2005.
On Tuesday the court was read a police transcript in which Mrs Hemming admitted taking Beauty.
'Replaced our cats'
The court heard how Mrs Hemming told officers she went to Church Road after her husband ended a telephone call to her, saying there was someone at the door.
Mrs Hemming said: "I looked in and then it was open so I thought, 'Oh yes, this is great, this is where he's going to get his post sent to - I bet there's bits lying around here that I might be able to use in the divorce'.
"Then this kitten comes up to me and rubs itself against my legs and basically I thought: 'Not only has he replaced me, he's replaced our cats'."
Ms Cox has told the court that she had not involved herself in Mr and Mrs Hemmings' relationship because she did not think it was any of her business.
She said Beauty belonged to the four-year-old daughter she had with Mr Hemming.
Jurors were shown CCTV footage of Mrs Hemming leaving with the kitten during the opening of the prosecution's case.
The trial continues.