Royal British Legion can hold poppy collection in Birmingham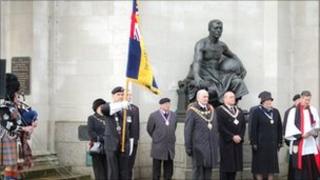 Birmingham City Council has reversed a decision to ban the Royal British Legion from holding poppy collections in parts of the city centre.
The charity was denied access in the run up to Remembrance Sunday as the council has enforced new rules on the number of charity collections.
Permission had been given to Shelter and The Anthony Nolan Trust who have now agreed to withdraw their requests.
The British Legion said it would have lost a huge amount in donations.
'Withdrawn request'
The Poppy Appeal officially starts in London a week before Remembrance Sunday, which falls on 13 November, giving fundraisers one week to make street collections.
The charity was not allowed on New Street and High Street on 11 and 12 November but was permitted to collect in other areas of the city.
The news prompted criticism from soldiers' relatives as well as the charity.
Ted Swann, West Midlands Royal British Legion vice president, said the decision was "disgusting", while Carol Jones, whose 37-year-old soldier son John was killed in Iraq, said she "couldn't believe" the situation.
But homeless charity Shelter said although it had been granted a licence for Armistice Day it had since cancelled the request.
A spokesman for The Anthony Nolan Trust said it had also withdrawn its request, not realising it meant other charities would have been prevented from fundraising at the same time.
"We have withdrawn the licence to fundraise in Birmingham on 12 November and have asked Birmingham City Council to allocate this date to the Royal British Legion," a spokesman said.
'Lost donations'
Following these requests, the council said it would offer the days to the Royal British Legion.
"This afternoon Shelter and The Anthony Nolan Trust have contacted Birmingham City Council offering to relinquish their collection slots for November 11 and 12 respectively.
"The council is therefore now able to offer these additional times and slots to the Royal British Legion, meaning they will be able to collect across the entire city on both days.
"Between 29 October and 13 November, The Royal British Legion has permission to make charitable collections across the whole, or the major part of Birmingham every day.
"This includes the city centre on Armistice Day and Remembrance Sunday."
Debbie Gooding, Royal British Legion's poppy organiser for Birmingham City Centre told BBC News that the charity would have lost thousands of pounds in donations.
"We're talking thousands and thousands really," she said.
"My old staunch volunteers would have been out on the streets no matter what, against the law or whatever.
"But because I wasn't covered for cadets in uniforms, I would have lost thousands, I'm talking £40,000 at least."