Birmingham charity ban hits British Legion poppy collectors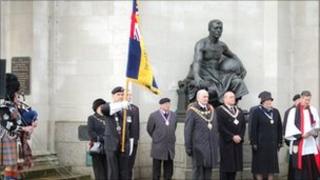 The Royal British Legion has been forbidden from collecting money in two of Birmingham's main shopping streets in the run-up to Remembrance Sunday.
The council has changed its application system to allow only one charity to collect in High Street at any one time.
It said another charity had applied first which meant the legion could not have collectors in New Street and High Street on 11 and 12 November.
The legion is permitted to collect in other areas of the city.
The Poppy Appeal officially starts in London a week before Remembrance Sunday, which falls on 13 November, giving fundraisers one week to make street collections. However, tins can be left in stores earlier.
Oxfam said it had waived its right to collect in Birmingham city centre on 5 November to allow the legion to collect on that day instead.
However, city council licensing restrictions remain in place for New Street and High Street for Armistice Day and the day after, on 11 and 12 November, because those days have already been booked by charities Shelter and the Anthony Nolan Trust.
Shelter said although it had been granted a licence for Armistice Day it had since cancelled the request.
'It's disgusting'
Birmingham City Council said it was investigating whether New Street and High Street were now free for the legion on Armistice Day.
Council leaders said the legion had to take responsibility for not making an earlier application, although the legion said there had been no formal deadline.
Ted Swann, West Midlands Royal British Legion vice president, said: "I think it's disgusting that they should do this on the city and all our soldiers representing us all over the world.
"It's the public who are going to be denied a street collection unless they can find a box."
Carol Jones, whose 37-year-old soldier son John was killed in Iraq, said she "couldn't believe" the situation.
Sgt Jones from Castle Bromwich, who served with the 1st Battalion, The Royal Regiment of Fusiliers, died from the injuries he received in a roadside bombing in Basra in November 2005.
His mother said: "The Royal British Legion have always respected the fallen, they're always there for the veterans.
"As far as I'm concerned they should have priority."
Opposition Labour leader Sir Albert Bore said: "I am calling on the officers, the Tory and Lib Dem leaders and everyone else involved, to join with me in making sure this problem is sorted, that common sense prevails and that the British Legion gets a satisfactory outcome."
The city council, which is run by a Liberal Democrat and Conservative coalition, said the rules had not changed but it was now following a first come, first served policy.
Licensing committee chairman Bruce Lines, who raised the issue at a council meeting on Tuesday, said: "Unfortunately they are unable to overturn that decision as it would be unlawful."
He said the charity licensing policy would be reviewed in light of the public's reaction.