Adele cancels two dates in Wolverhampton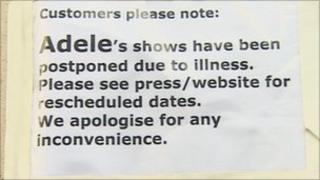 Singer Adele has cancelled two more dates of her UK tour due to illness.
The star has pulled out of her sold-out gigs at Wolverhampton's Civic Hall which were due to take place this evening and on Sunday.
The announcement follows shows on the same tour being cancelled in Cardiff, Blackpool, Plymouth and Bournemouth.
A statement on the 23-year-old's website apologised for the cancellation and said the shows would be rescheduled as soon as possible.
Chest infection
The Grammy-nominated star's hits include Rolling in the Deep and UK number one Someone Like You.
The statement on her website read: "It is with regret that due to continuing problems with a serious cold and chest infection, Adele has had to postpone her shows this weekend in Wolverhampton.
"Her doctors have insisted she recovers fully before returning to the tour.
"Sincerest apologises for any inconvenience caused."