Fox wakes a Birmingham woman after jumping on her bed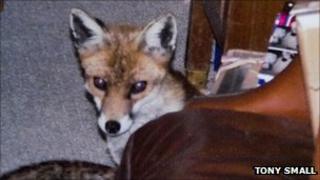 A woman from Birmingham has been describing how she was woken up by a fox jumping onto her bed.
Mary Small was asleep at home in Bournville and at first thought it was a "large cat".
Then she saw the fox's tail disappearing down the stairs. The animal then ran back upstairs and hid under a table.
Mrs Small's husband Tony grabbed a camera and took a photo before the fox ran out of the house.
Mrs Small, 68, said her husband had got up early to go out and smoke his pipe in the garden.
"I was still sleeping, snuggling nicely when something jumped on me and woke me up," she said.
When Mrs Small realised her early morning visitor was a fox, she said she locked herself in the toilet and shouted for her husband.
"He (the fox) shot downstairs, I ran for the nearest loo and my husband ran for his nearest camera," she added.
Mr Small, 69, said the animal then ran back up the stairs and hid under the bed in the front room.
It then ran under a table in the study.
"The poor creature was petrified," Mr Small said.
He stood back so that the fox could not see him and the animal bolted down the stairs and out of the house.