Black Country Food Bank sees 45% rise in demand says founder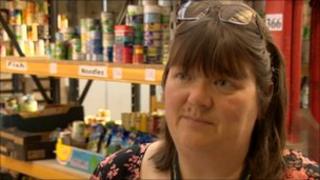 A Black Country charity which provides free food to vulnerable people has seen a 45% increase in demand since last year, organisers say.
Almost 3,500 people, including 1,000 children, have been helped by the Food Bank in Stourbridge during the first six months of this year.
Founder Wendy Fryatt said they fed 5,324 people in 2010.
The Food Bank gives families in crisis food provision for three days "while a longer-term solution is developed."
Users have to get a voucher from agencies including Age Concern and the Probation Service, and can only receive help on three occasions.
'Something in place'
The charity started in about 2006. It has eight distribution centres and is planning a further two by Christmas.
It is thought the increase in demand is linked to families without free school meals across the summer, the charity said.
More than 40,000 children receive free schools meals across the Black Country, the Department of Education figures show.
"There is an increase in need - it's almost like we're just scratching the surface," Ms Fryatt said.
"I am now working with Dudley Council, with their lead on child poverty, around their strategy and we're looking at ways we can do some kind of provision during school holidays.
"Sadly nothing is going to happen this summer but we'll make sure something is in place Christmas, Easter, summer next year."