'Blind Dave' Heeley completes 10 marathons in 10 days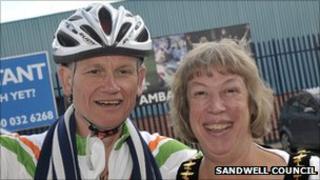 A blind man who ran seven marathons in seven days on seven continents has completed his latest charity challenge.
Dave Heeley, from West Bromwich, has run 10 marathons in 10 days travelling from John O'Groats to Land's End, and cycled between each stage.
He has covered about 1,000 miles (1609km) in aid of Macmillan Cancer Support to mark its centenary.
Mr Heeley, known as Blind Dave, arrived at Land's End on Friday afternoon.
'Unbelievable' reception
He set off from John O'Groats on 10 August to coincide with the birthday of the charity's founder, Douglas Macmillan.
Each day started with a marathon run of 26.2 miles (42.16km) followed by a tandem cycle ride to the next destination.
On day six of the challenge, Mr Heeley reached the Black Country where the West Bromwich Albion fan stopped off at the club's ground, The Hawthorns.
Mr Heeley set off from Truro for the last leg of his challenge on Friday morning.
Marathon number 10 and a cycle ride later, he and his team arrived at Land's End.
Describing the welcome they received as they arrived, Mr Heeley said: "The reception that we've had as we've come into Land's End, it's just unbelievable.
"To have this response here now is just absolutely incredible."
He said people had been "terrific".
"Thank you, thank you, thank you to every single person who has offered some form of support," he added.