Birmingham riots: Crowds mourn riot death 'martyrs'
By Andrew Dawkins
BBC News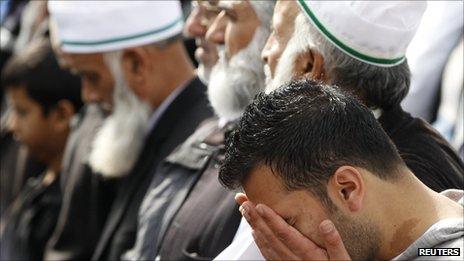 "They made an example of how a Muslim should be and how Islam is."
Leading prayers to some 20,000 people who gathered to remember the three men killed during disorder in Birmingham last week, Muslim scholar Sheikh Muhammad al-Yaqoubi delivered his verdict.
Haroon Jahan, 21, Shazad Ali, 30, and Abdul Musavir, 31, were hit by a car on Dudley Road in Winson Green, Birmingham, while protecting property on 10 August.
People of many faiths and backgrounds congregated in nearby Summerfield Park to pay their respects to three men.
Sheikh al-Yaqoubi led prayers from a stage set in front of dozens of trees, near the park's perimeter.
He told the audience, many of whom were wearing Muslim dress: "The three martyrs [were] sacrificing themselves to defend their community, their family members, their homes."
For more than half an hour his words were broadcast over loudspeakers on a large screen, which earlier displayed the names of the three men who lost their lives.
Nadeem Mohammed, 41, from Stechford, Birmingham, said: "It's nice to see different communities here.
"As a Muslim we are not supposed to mourn because we believe they were doing a good deed before they died, we believe they are going to a nice place."
Police officers watched discreetly in the background as the park was divided into separate sections for men and women to pray in.
People were guided to these areas via huge flags displaying the message "United Birmingham".
Some men wore black T-shirts customised with the words: "Haroon Shazad Musavir R.I.P."
After the Syrian scholar Sheikh al-Yaqoubi spoke there was a call to prayer, at about the same time as the men's coffins were brought into the park via the East Gate entrance.
Zubeda Limbada, 35, said: "It's almost like being invited into a private function.
"It's like being invited into a mosque and having access to seeing the type of prayers that people do in a mosque.
"He [the scholar] talked about communities, hunger during Ramadan and revenge.
"He's reflecting a lot of the disparate feelings and emotions people have.
"A lot of the themes he talked about, such as not conducting revenge, echo the dignity within the community and what it has faced in the last week."
Alan Blumenthal, from Birmingham's Singers Hill Synagogue, said it was "an amazing tribute" to the three young men who so many people had turned out to support.
"In other places, in similar circumstances, people could be calling for retribution, for violence in response," he said.
"People here, all the speakers are calling for peace, co-existent for the benefit of all.
"Today goes against the view that young people are only interested in themselves and are layabouts.
"Here you have three beacons of light and an example of the way people should lead their lives in service of others."