Sangat TV's guerrilla journalism wins fans amid riots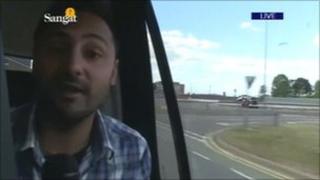 Armed with just a camera and microphone Sangat TV reporter Upinder Randhawa has become a well-known face during coverage of the riots and disorder in Birmingham this week.
Darting around the city, broadcasting as events unfold, he has created a following among viewers and social media users alike.
His direct, and at times, emotional reports on the state of the city seemingly in the grip of looters and rioters seem to have struck a chord with his audience.
Most notably, footage that appears to show his team giving police a lift to chase after a man suspected of being involved in the disorder has been shown by the BBC, Sky and other outlets.
"I don't care if I lose my life because at the end of the day it's about humanity," he said to viewers, in another broadcast, appearing to be visibly upset.
"It's very emotional and ridiculous what I'm seeing."
The tiny station based in Edgbaston in Birmingham is suddenly on everybody's radar for its distinctive and live style - guerrilla journalism in action.
So where now for the charity station that was founded by a group of Sikhs and is run by a team of about six people backed up by volunteers?
The tragic deaths of three young men knocked down and killed in the Winson Green area during the disorder in the city has seen tensions rise amongst the community.
But out of a negative situation, the community united - something the station feels it played a part in and now wants to continue to spread positive messages of support, long after the rioting ends.
One of the managers at the station, Nirmal Singh, said encouraging "interfaith dialogue" was vital.
"What's been clear that has come out of this is, from the negativity, communities have been brought together and stood arm-in-arm and we want that to continue," he said.
"We believe in values, morals and ethics and we think that has a solid impact.
"It's about respecting others and we want that interfaith dialogue to carry on - that's not been on TV before and brought to the fore.
"It's for all, non-believers and outside the Sikh, Hindu and Muslim faiths.
"We want to ensure the positive message gets out to the communities."
The station first broadcast on 1 September last year.
It is a religious channel showing news and community-based programmes which rely on donations for funding.
The plan was always to move into news within two to five years but Mr Singh said they have arrived at that point faster than they expected.
"It's looks like we can get there much faster than we thought and we've not even reached our first birthday ," he added.
'Defuse issues'
Mr Randhawa is just one of the volunteers who is passionate what about he does.
A Facebook page has now been started in his honour - "Upinder Randhawa from Sangat TV is a Legend".
"What he is doing is unpaid and you can get very emotional and we have spoken to him about that," Mr Singh added.
"We're very grateful to him and have received very positive feedback from the community."
A candlelit vigil was held on Dudley Road on Thursday, almost 24-hours after Haroon Jahan, Shazad Ali, and Abdul Musavir died as they protected property in Winson Green.
At the gathering, Sikhs and Muslims came together to pay their respects and debate their response and reaction hours after Haroon's father had urged people to show restraint.
There were calls for peace and no reprisals before the crowds dispersed into the night.
"Today, we feel fairly relaxed," Mr Singh added.
"We feel we've helped defuse a number of issues, we're talking to the community and scheduling meetings to keep that going.
"Our idea is one family, brotherhood and humanity, we want to keep that going."