Riots: 'Tensions high' in Winson Green after deaths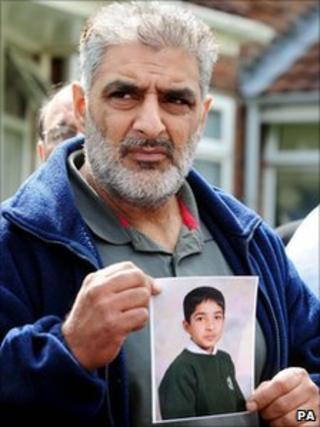 People living in the Winson Green area of Birmingham are being urged to remain calm after three people were run over and killed as they protected property.
Haroon Jahan, 21, died along with two other men, aged 31 and 30, after they were hit by the vehicle in the early hours of Wednesday.
Friends and neighbours said they were out helping to protect the community along Dudley Road at the time.
Residents have stayed out on the street on Wednesday.
The city has seen episodes of large-scale disorder and looting over the past two nights which seems to have brought neighbourhoods together.
'We need peace'
However, the shock of the deaths has brought heightened tensions within the community, prompting community and religious leaders and Shabana Mahmood, the MP for Birmingham Ladywood, to call for calm.
Mr Jahan's neighbour Sandra Brooks said peace was needed in the city and she was disgusted with the "mindless violence".
"I have woken up to sorrow and sadness for the family," she said.
"I have lived next door to the family for years.
"I've seen H grow up - a fine young man - and all we're doing is protecting our homes.
"The journey people are taking is mindless and pointless.
"We all need to stand together and fight for peace.
"This is England... I am disgusted with what's going on."
Andrew Watson, the Bishop of Aston, attended the community meeting along with other clergy.
He said there was resentment with the community at what had happened but appealed to people not to react.
"I'd say don't do anything in the memories of three impressive young men," he said.
"Trust that the police will get to the bottom of it.
"Violence just leads to more violence.
"We also spoke about it being Ramadan, a holy time.
"We hope the meeting helped and it was good of the MP to act quickly to speak to the community."
Government adviser and community leader Derrick Campbell said there were mediators out talking to the community.
Mr Campbell, who advises on anti-social behaviour and violent crime, said he also hoped the recent disorder across the city would cease.
"We've heard people talk about taking matters into their own hands and we're appealing for calm.
"We've got mediators out trying to access the angry community.
"We need to get leaders together to find a resolution and for people to stay off the streets.
"But it would be foolish to assume all is well."