UB40 fight record label DEP International bankruptcy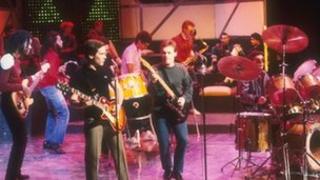 Five founder members of the West Midlands reggae band UB40 are fighting attempts to declare them bankrupt.
Bankruptcy proceedings have been started against Robin Campbell, Brian Travers, Terence Wilson, Norman Hassan and James Brown.
Liquidators are in dispute over finances relating to the band's defunct record label DEP International.
District Judge Richard Musgrave gave permission for a bankruptcy petition to be presented against the band.
At a hearing at Birmingham Civil Justice Centre on Thursday the judge ruled that an undisclosed amount being sought by liquidators was too high.
UB40, formed in Birmingham in the late 1970s, were named after the government's unemployment benefit form.
The band had success with hits including Red, Red Wine, I Got You Babe and One in Ten.