Blind Dave Heeley wins taxi dog ban equality case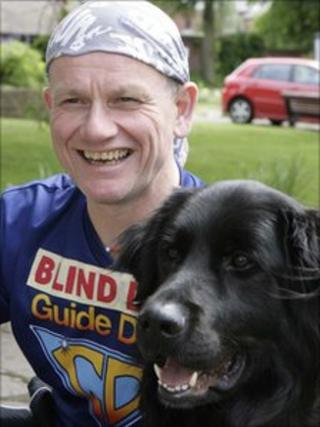 Blind marathon runner Dave Heeley has won a legal victory after his guide dog Wicksie was barred from a taxi.
The offence happened in Sandwell within a week of the Equalities Act coming into force in October 2010.
Taxi driver Wali Khan, 28, of Lewisham Road, Smethwick, was ordered to pay a total of £665 in the case, brought with the help of Sandwell Council.
He admitted barring a disabled person from his cab, despite a booking confirming Mr Heeley had a guide dog.
Mr Heeley, 53, speaking after the ruling at Warley Magistrates Court, said: "I think it was important to take this case to court.
"It is a victory for all other blind, deaf and physically disabled people.
"I'm big and ugly enough to handle most situations - but what if it had been someone who wouldn't have stood up for themselves? They would have been left in a very vulnerable situation indeed."
'Fantastic drivers'
The runner, who is known in his home town of West Bromwich as "Blind Dave Heeley", is best known for completing seven marathons on seven continents in seven days for charity in 2008.
He said: "The vast majority of taxi drivers are fantastic but the small number who don't stick to the law must be reminded how their actions can affect a blind or deaf person's quality of life.
"I've used this particular taxi company for years and still do. I've no complaints against them."
Marc Rowley, owner of XL, a private hire firm in Wednesbury, said Mr Khan no longer worked for the company.
He said: "We do a lot of business for people with visual impairments and this was an isolated incident which upset everyone here at XL.
"We take our responsibilities to people with disabilities very seriously.
"Dave is one of our top customers and we are pleased he continues to use our services."