Birmingham University opens China research centre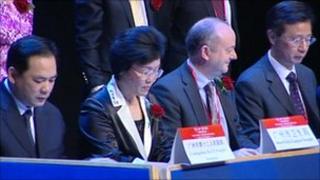 The University Of Birmingham has announced plans to set up a research centre in China.
The university said the centre in Guangzhou will be used to identify and co-ordinate future joint research projects.
A previous university study into the effects of passive smoking in China is now being researched in Britain.
More than 100 representatives from Guangzhou attended a conference in Birmingham on Friday.
The collaboration between Guangzhou (previously Canton) and the University of Birmingham began a decade ago.
'Bright future'
The university spearheaded China's largest health study on chronic lung disease caused by passive smoking and pollution in the Guangdong province.
The findings led to new research at University Hospital Birmingham and have been used to lobby for a ban on smoking in public places in China.
University vice-chairman Professor David Eastwood said: "I believe that as we strengthen our presence through the Birmingham centre future prospects for deep and lasting collaborations, bringing benefits to the citizens of Guangzhou and beyond, are bright."
In October, 10 students will take up the first scholarships for Chinese nationals to study PHDs at Birmingham.
The research centre is due to open in September.