Birmingham Prison: 123 jobs could go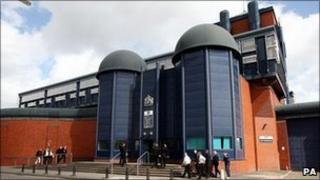 The private company taking over the running of Birmingham Prison has said 123 jobs could be axed.
Security firm G4S said the jobs were mainly in management, operational support and administration.
G4S said the government "required savings" to be made, but Glyn Travis, of the Prison Officers' Association, said staff safety would be put at risk.
Birmingham is the first prison in the UK to be transferred from the public to private sector.
A company spokeswoman said the new staffing levels will be "more in line with the levels G4S has successfully and safely adopted in the four other prisons it currently operates in England and Wales".
'On the cheap'
But Mr Travis said: "We say that staffing cuts will impact on the safety and security of any establishment."
Prisons were seeing "more and more serious assaults" and more drug use, he said.
"To prevent these problems we need more resources. But the government is hell-bent on driving the costs down," he added.
"This is the climate we're in now. Everyone wants to do everything on the cheap.
"The bottom line is staff, personnel and the public will be at risk."
According to G4S, around 650 staff currently work at the prison.
Jerry Petherick, managing director of G4S Offender Management, said: "Today's announcement is the culmination of several months of constructive discussions with prison staff, their representatives and the Ministry of Justice.
"Throughout this period we recognised the anxiety that many employees were feeling, and I am pleased that we have been able to stand by our earlier commitment and keep everyone informed at all stages of our consultations.
"When the government decided to move operational control of HMP Birmingham to us, it was in the knowledge that efficiencies needed to be made.
"We have been transparent with staff from the very beginning, making it clear that in order to deliver the savings required by government, some job losses were sadly inevitable."
The company said any staff affected will be able to apply for positions at the new Featherstone II prisons in Wolverhampton which G4S will run from April next year.
In March Justice Secretary Ken Clarke confirmed HMP Birmingham was to be privatised, and G4S will take over the 1,400-inmate jail in October.
The four prisons G4S currently runs are HMP Altcourse, in Liverpool, HMP and Young Offenders Institute Parc, in South Wales, HMP Rye Hill, in Warwickshire and HMP Wolds, in East Yorkshire.