The Grey Goose Blues Band on BBC WM Introducing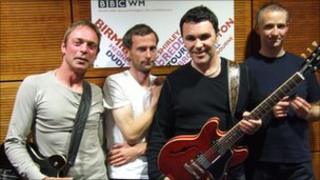 The Blues scene in the West Midlands and across the country is looking "good" according to a local band who said they seemed to be getting gigs "all over the place".
The Grey Goose Blues Band joined BBC WM Introducing for a live studio session.
Singer and guitarist Frankie Williams said he thought blues had "become very popular".
The band have a number of gigs and festivals coming up over the next few months.
Song title
The four-piece band has been together for about two years.
Frankie told presenter Brett Birks that they got their name from a song by American blues musician Huddie Ledbetter.
"The Grey Goose... it's a great song, so Rufus T (bass player) and I were brainstorming about what we should call this band... we had loads of ideas but that was the one which stuck so we went with it," he said.
As for their sound, Frankie explained that they played "a lot of different kinds of influences".
He said: "The blues genre is very big and we're not pigeon-holed into one particular style, so we take all our influences from the blues genre generally speaking, but we do our own music."
The Grey Goose Blues Band have got festivals coming up in Upton Upon Severn, Fishguard and Shetland.