Birmingham City's Carson Yeung on money-laundering charges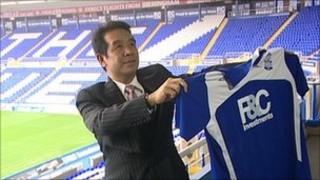 Birmingham City FC's president Carson Yeung has appeared in court in Hong Kong on money-laundering charges.
Mr Yeung was bailed by the Eastern Court in his home city after being charged with five counts.
BBC correspondent Annemarie Evans said he had been arrested by the narcotic bureau's financial investigations unit at his home.
Mr Yeung took control of the English football club, which was relegated to the Championship in May, in 2009.
'Tax issue'
The trial has been adjourned until 11 August.
Ms Evans said all five charges related to money laundering with the amount involved being up to £59m.
She said Mr Yeung had not entered a plea and little about the details of the charges was known.
News agency Reuters reported Mr Yeung's lawyer, Daniel Marash, as saying that it seemed to be a tax issue.
"All they're saying is that he has got a lot of money, and he hasn't paid a lot of tax," he said.
"I mean there's lots of money in my bank account, not as much as his, but I don't pay taxes because it's not taxable."
'Unrelated to club'
He also said trade in shares of the club's parent company, suspended on Thursday, may start again now he has been bailed.
Earlier, a statement put out by Birmingham City's acting chairman, Peter Pannu, said he believed the police inquiries in Hong Kong were nothing to do with the club's parent company or subsidiaries.
He said he had been informed by lawyers that Mr Yeung was assisting with inquiries that had nothing to do with Birmingham International Holdings Limited (BIHL) in Hong Kong and therefore nothing to do with the operation of the club.
Mr Yeung worked in England as a teenager before becoming a hairstylist in Hong Kong. He made his fortune through investing in nearby Macau in the 1990s.
He is Birmingham's largest single shareholder with a 26.3% stake.