Birmingham strike rally: Hundreds protest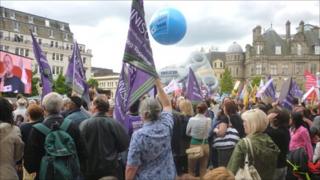 Hundreds of public sector workers gathered in Birmingham city centre to protest over cuts to their pay and pensions.
The rally, in Victoria Square, was part of the action in the West Midlands by the Public and Commercial Services Union (PCS) and three teaching unions.
Nearly 400 schools were closed in Birmingham and the Black Country, with another 70 partially shut.
The government said reform would stop the pensions system from "going broke".
Across England, 3,200 schools were shut and 2,200 were partially closed, out of about 22,000 state-funded schools.
The action by the National Union of Teachers (NUT), the Association of Teachers and Lecturers (ATL) and the University and College Union (UCU) has affected England and Wales.
Birmingham City Council workers, who are members of Unison, were also striking in support of their fellow public sector employees and to highlight their own dispute with the council about plans to scrap allowances for working anti-social hours.
BBC reporter Andrew Dawkins said Victoria Square had been packed with hundreds of people, with dozens waving flags and banners from Unison, the NUT and other unions.
John Skurr, 52, is a teacher from Cannock and a member of the ATL union.
He said: "I'm concerned that going on teaching until you're past it is not good for kids.
"On a personal note it affects my prospects of retiring at a sensible time."
Donna Stait, 52, is a council benefits worker from Birmingham.
She said: "Our working contracts will change and basically we'll have to be moved anywhere at any time.
"The pensions issue is going to make a massive difference."
The Conservative-Liberal Democrat coalition that controls the city council said it had to make savings of more than £300m in the next four years and its contracts were fair.
'Part of something'
Caroline Johnson, assistant branch secretary of the Unison Birmingham branch, said: "We are public sector workers along with the teachers and other staff and it's public sector workers at the moment who seem to be the enemy of the government.
"They are cutting our pensions, our pay, our terms and conditions, everything we have ever worked for, so that is why we wanted to be part of something other than just our own dispute."
Sian Ruddock, from the West Midlands branch of the Public and Commercial Services Union, said she hoped the joint strike would make a difference to all the government's public sector proposals.
Prime Minister David Cameron told the Commons on Wednesday: "I don't believe there is any case for industrial action tomorrow not least because talks are still ongoing.
"It is only a minority of unions who have taken the decision to go ahead and strike... what I want to see tomorrow is as many mums and dads as is possible able to take their children to school."