Brazilian rare tamarins arrive at Birmingham Nature Centre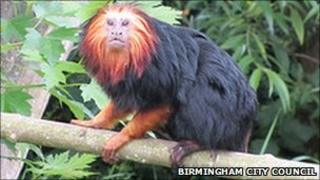 Animal experts in Birmingham are joining the fight to save an endangered species of primate.
The Birmingham Nature Centre is taking part in a golden headed lion tamarin breeding programme.
The centre in Edgbaston has been invited to take part by the Brazilian Government.
The primates are native to Brazil's coastal rainforests and centre manager Les Basford said their numbers in the wild were decreasing.
'Determined to help'
Three female golden headed lion tamarins, Nala and her daughters Santo and Akasha, have recently arrived at the centre.
They will be joined by a male when the breeding programme's European co-ordinator is satisfied that they have settled in well in Birmingham.
Mr Basford said there were four species of lion tamarin found in the coastal rainforests of Brazil.
He said they were all endangered, one of them critically, "primarily because of loss of habitat".
Birmingham City Council cabinet member for leisure, sport and culture Councillor Martin Mullaney said: "It's a real honour for Birmingham Nature Centre to play a part in this breeding programme and hopefully we can help safeguard the golden headed lion tamarin for generations to come.
"For the Brazilian government to launch this programme gives a clear indication of the urgency of the situation and we're determined to help this species avoid extinction."
The centre has also been approved to participate in a golden lion tamarin breeding programme.