Warning over child protection cuts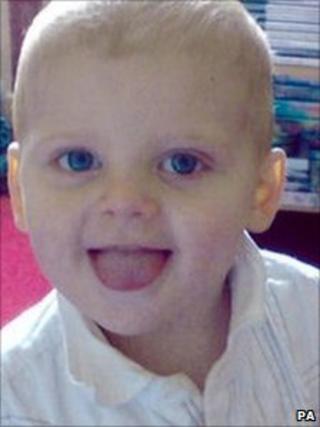 A care provider criticised for its involvement in the death of a three-year-old boy in the West Midlands has warned that council budget cuts could lead to other vulnerable young people being given inadequate support.
The charity Shaftesbury Young People was one of 14 agencies criticised in a Serious Case Review (SCR) into the death of Ryan Lovell-Hancox, who was murdered by his carers in Bilston in December 2008.
The charity was employed by Wolverhampton City Council to provide support to one of his carers, 17-year-old Kayley Boleyn, while she was coming out of residential care and going on to lead an independent life.
'Workers scared'
The review said the charity had provided case workers with "limited experience", "insufficient training" and "no specific social work qualification".
It said they had missed opportunities to ask direct questions of Boleyn that could have saved Ryan's life.
The chief executive of Shaftesbury Young People, Karen Wright, who joined after 2008, said she accepted the criticism but warned that council spending cuts meant more staff would be overburdened by cases that they were not trained to deal with.
She said: "Cost cutting is putting staff under pressure. There does come a bottom line and I think we are nearly getting there. I am really concerned about what's happening."
She said fewer referrals were being made for residential social care, which typically costs councils twice as much as providing housing support services which also attract housing benefits and central government funding.
The former NSPCC employee said due to cuts, housing support workers without social work qualifications were being asked to deal with people who in previous years would have been judged as requiring residential social care.
She added: "The results of this were seen in the case of Kayley Boleyn."
A child protection survey undertaken by Community Care magazine in April said 58% of 170 front-line workers had felt under pressure to downgrade their child protection assessments.
It said two-thirds of those were "scared" about the assessments they had made and 83 people said their new classification was "not in the child's best interest".
The magazine said budget cuts, increased workloads after the Baby P abuse case, and too few social workers were the main reasons given for the rise in the child protection threshold.
'Weakest link'
The British Association of Social Workers (BASW) has said it also has "grave concerns" about the situation.
It said administrative roles were the first to be cut when budgets were reduced.
A spokesman said: "In Baby P's case, in Khyra Ishaq's case and now in Ryan Lovell-Hancox's case, information sharing was the problem.
"If you cut administrators, they are the data inputters. That's another job for social care workers to take on. There are only so many hours in the day, things are going to be missed and this is already the weakest link."
"Young people in the care system need specialised support. If we just dump them in general services we are going to see casualties.
"We are three years down the line from the Baby P case but we are not doing better. Yes, there's been a task force, we had the Munro Child Protection Review recommendations which have been taken up, but the reality is our support services have been cut and it's a nightmare."
'Not forcing people'
A spokeswoman for The Association of Directors of Children's Services, (ADCS) which represents children's department leaders in England's councils, said: "We have seen no evidence of thresholds being managed down in response to the financial situation we all face.
"Indeed, there is evidence that Children's Services have benefitted from careful consideration and important services around the safeguarding of children have been maintained."
She added: "It is understandable that changes to practice and management oversight are unsettling to those on the front-line, especially when dealing with questions of risk to children - managers and social workers will need to communicate clearly so that these changes are not misunderstood."
In response to claims that administration support had been reduced and cuts to social care were affecting front-line services the spokeswoman said: "ADCS evidence is that children's social care services generally have been finding savings of around 2% and the Department for Communities and Local Government figures out today confirm this.
"This is not inconsistent with maintaining front-line services whilst making a responsible contribution to local authority savings targets.
"In most cases, front-line services include those admin staff in direct support of social workers and other professionals working face to face with children and families."
A spokesman for the Department for Education said child protection was paramount and ways to free staff from bureacracy had been investigated.
He said: "Ministers are clear that the funding settlement we have announced for local government is challenging but fair. We are not asking councils to do the impossible - in fact we are giving them greater flexibility so they can take decisions, with their residents, on the priorities for spending."