Ryan Lovell-Hancox murder: Lessons learned 'are not new'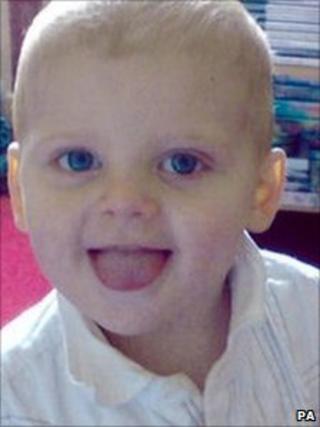 The lessons learned from the death of a three-year-old boy who was murdered by his babysitters are not new, the head of Wolverhampton's Safeguarding Children's Board has admitted.
A serious case review into the death of Ryan Lovell-Hancox in Bilston on 24 December 2008 said 14 agencies had missed opportunities to save him.
It criticised poor record keeping and communication between the agencies, including the city council, police and probation service.
Bill Anderson, the board's chairman, said: "People know what they've got to do - share as much information as possible.
"But we mustn't be complacent.
"We've got to keep going back and checking that we are always challenging each other and make sure that we are putting the safety of children first."
The report follows a separate serious case review into the death of seven-year-old Khyra Ishaq, who was starved to death by her mother and her partner in Birmingham.
That report also said that better assessments and more effective communication could have stopped her death in 2008.
Similarly, the lack of communication between agencies in Haringey, north London, in the Baby P case was also identified as contributing to his death.
Mr Anderson said: "What we've actually learned is that we've got to share the right information.
"We've got to tune ourselves into the things going on and we've got to listen to that and we've got to share that."
Ryan had 70 injuries on his body and died from a brain injury he received while staying in a flat in Bilston with Kayley Boleyn and her boyfriend Christopher Taylor.
Unbeknown to Wolverhampton authorities, the couple had entered a private fostering arrangement with his mother Amy Hancox.
Both of his babysitters had histories of abuse of which separate agencies were aware.
But poor communication meant that no single agency was in possession of all the facts.
The review said this could have resulted in Ryan being removed from his killers' care, Mr Anderson said.
Boleyn was reported to have hit a six-year-old sibling in 2005 but the report said the offence was "tardily" dealt with by police, resulting in it not being recorded.
The report said this would have alerted social services to the inappropriateness of her being left in charge of a child.
Taylor had drug and alcohol addictions and a conviction for assault. He also had a history of abusing partners and due to a period of mental illness, had been identified as a "medium risk to children".
A probation officer, who was standing in due to sick leave, saw Taylor with Ryan in December 2008 but did not raise the alarm because he was not aware of the nature of Taylor's specific conviction or that Taylor was officially looking after Ryan.
Boleyn's case worker had neither the training, nor experience to deal with the situation she was confronted with, the report said.
Mr Anderson said she was "relatively young" and had since left the Shaftesbury Young People charity.
He said her focus had been in engaging with Boleyn and forming an affirming, supportive relationship with her, which she felt she had done successfully.
He said it was possible she did not ask challenging questions of Boleyn when she saw a child in the flat, because she did not want to jeopardise that relationship which she considered to be her job.
Mr Anderson said the review's 60 recommendations had been implemented.