Baby death at Birmingham's Heartlands Hospital 'followed birth delay'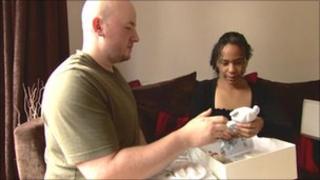 A couple's baby boy was stillborn after delays in inducing the birth while there was a shortage of midwives, their lawyers have said.
Emma Brown, 30, and partner Greig Carleton's baby Tobias was delivered at Birmingham's Heartlands Hospital in October last year.
An internal inquiry at the hospital found "shortcomings" in the care provided for Ms Brown, from Birmingham.
The hospital has since apologised to the couple.
The couple's solicitors Irwin Mitchell said Ms Brown's pregnancy had been "high-risk" due to a previous caesarean section and the couple's baby had been 12 days overdue.
The baby was then not induced for another 15 hours or more.
'Very sorry'
Ms Brown also failed to receive one-to-one midwife care because the hospital was unable to cope with its workload, her solicitors said.
The hospital inquiry revealed that a shortage of midwives and a large number of women who were in labour meant that the hospital could not provide the usual level of care, Irwin Mitchell said.
Ms Brown also suffered a ruptured uterus, which she was told about after the birth.
She said coming to terms with what happened was hard.
"I'd carried him naturally, he was well, I did everything you would expect a mother to do," she said.
"To not have him to take home, to try to explain that to our little girl was really difficult."
In a statement, the hospital spokesperson said: "The trust has not received formal allegations of negligence, however our internal inquiry has identified shortcomings in the care provided to Emma Brown for which we are very sorry.
"We are working with Emma's solicitor to reach a settlement of the claim.
"The trust deeply regrets the sad outcome of this case, and we wish the family all the best for the future."