Birmingham council staff vote to strike over allowances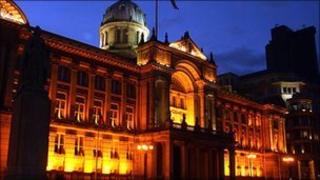 Workers at Birmingham City Council have voted to take strike action over plans to scrap allowances for working anti-social hours.
Members voted three-to-one to strike, from a turnout of 30% of the 10,000 members able to take part, the Unison public sector union said.
Some staff would have pay cuts of up to £6,000, the union said.
The council said it would ensure "as far as is possible that essential frontline services operate as usual".
'Make ends meet'
The union said members were balloted about the council's "plans to unilaterally change terms and conditions".
It said 4,000 workers would be affected and proposals would have "a disproportionately severe impact on the lowest-paid who rely upon shift allowances, weekend working rates and other associated payments to make ends meet".
Unison West Midlands' head of local government, Tony Rabaiotti, said: "The proposed contract rides roughshod over established terms and conditions.
"Why is it right that some low paid home care workers presently earning just £14,000 a year should lose over £3,000?
'Last resort'
"This council leadership does not live in the real world, does not understand the reality of life on low pay and has lost the confidence of the workforce."
Mr Rabaiotti said industrial action was "always the last resort" and it was not a low turnout.
He said: "It's exactly what we expected. It's normal for a postal ballot.
"We want the council to understand the anger and disappointment of the workforce (and) return to the negotiating table."
The Conservative-Liberal Democrat coalition running the city said the contracts were fair and necessary if it was to make savings of more than £300m over the next four years.
Councillor Alan Rudge, cabinet member for equalities and human resources at the council, said industrial action was "always regrettable".
He said: "Contingencies will be put in place to ensure as far as is possible that essential frontline services operate as usual when the need arises.
"We are trying to balance the interests of our workforce and the balance of the people who use the city and the people who are paying their council tax."