Birmingham to host London 2012 Festival concert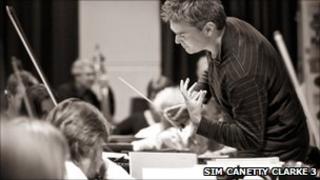 One of three opening night concerts for the London 2012 Festival will be held in Birmingham.
The City of Birmingham Symphony Orchestra (CBSO) and choirs will perform as part of the build-up to the Olympic and Paralympic Games.
Beginning next June, the festival is a 12-week cultural celebration taking place across the UK.
CBSO chief executive Stephen Maddock said they were "delighted" to be involved.
The London 2012 Festival marks the finale of the Cultural Olympiad, which began in 2008.
Since then, more than 425,000 people have got involved with arts events across the West Midlands.
'World peace'
The festival opens on 21 June 2012 and the CBSO will perform the UK premiere of a new choral work called Weltethos, by Sutton Coldfield-born composer Jonathan Harvey.
The performance at Birmingham's Symphony Hall will involve the orchestra, CBSO Chorus, Youth Chorus and Children's Chorus.
Mr Maddock said they were "absolutely thrilled" to be chosen by the London Organising Committee of the Olympic Games (LOCOG) to stage one of the opening concerts.
"All eyes will be on Great Britain during this time, so we are particularly delighted that Birmingham and the CBSO will play such a big role," he added.
Simon Halsey, CBSO Chorus director, said: "The overarching theme of Jonathan Harvey's new work is world peace, so it is absolutely perfect for this concert, which is part of the Olympic Games celebrations."
He added: "As Jonathan Harvey was born in Sutton Coldfield, it is also fitting that the UK premiere of the work will be on his home turf."
The London 2012 Festival runs from 21 June to 9 September 2012.