Wolverhampton New Cross payout for boy injured in birth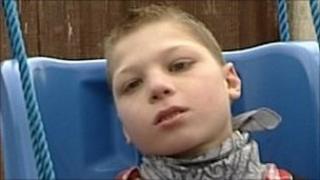 A boy left severely brain damaged by complications at his birth in hospital has won the right to claim a seven-figure NHS compensation package.
Joseph O'Reggio, 10, of Wolverhampton, suffered permanent brain injuries when he was starved of oxygen at New Cross Hospital, Wolverhampton, in April 2001.
It has admitted partial liability, the High Court in London heard.
The issue of liability for his injuries was agreed in relation to his claim against the trust, it has confirmed.
Joe, who was left with cerebral palsy, is wheelchair bound, has severe learning difficulties and cannot speak or feed himself.
His mother, Rachel O'Reggio, said outside court that Joe "is a lovely little boy", but "he does have some level of understanding and this often results in him having extreme frustration tantrums".
She said: "Although the trust does not accept full responsibility, we are pleased that we can move forward and hopefully now agree a final settlement.
"We also hope that lessons have been learnt in order that no other family has to go through what we have been through."
Letter of apology
Lawyers for the boy claimed his injuries were caused by medical negligence on the part of staff at the hospital, who they said should have realised he was in distress at an earlier stage.
The Royal Wolverhampton NHS Trust denied the delays caused the injuries, but have agreed to compensate the child on the basis of 80% of a full valuation of his claim.
Approving that agreement, Mr Justice Tugendhat expressed his "sympathy and best wishes" for the parents.
The court also heard that a representative of the trust has sent a letter of apology to his parents.
The amount of the payout will now go forward for assessment unless final settlement terms are agreed in the meantime.
Sara Burns, from legal firm Irwin Mitchell who represent the family, said outside court: "The severity of his disability will inevitably mean that this will be a seven-figure amount to provide him with the very substantial care and support he will need for the rest of his life."
On Tuesday The Royal Wolverhampton Hospitals NHS Trust said it was "pleased to confirm that the issue of liability for Joseph's injuries has been agreed in relation to his claim against the trust and this agreement will be reported to the Court tomorrow".