Sainsbury's to create 'thousands' of West Midlands jobs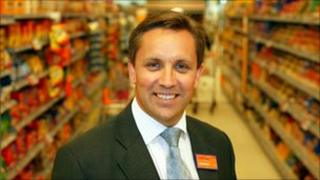 Supermarket retailer Sainsbury's has said it is planning to open several new stores in the West Midlands, creating as many as 4,000 jobs.
Chief executive Justin King told BBC News the company would be expanding in the region over the next three years.
Up to 400 jobs will be created as part of the redevelopment of Longbridge. Stores are also planned in Erdington and Dorridge.
Jack Dromey, MP for Erdington, said he was pleased but had reservations.
If the plans for Erdington are approved, about 400 jobs would be created, Sainsbury's said.
'Unknown quantity'
In a BBC WM Hardtalk interview, Mr King said the group created 6,500 jobs in the UK last year and planned a further 20,000 over the next three years.
Of those jobs, he said he expected between 3,000 and 4,000 jobs to be in the wider West Midlands region.
He said: "It's a little bit of an unknown quantity because it depends on... where we're able to get planning consent.
"But yes, if we take the wider West Midlands region, I wouldn't be surprised if it was 3,000 and 4,000 jobs in the wider West Midlands region over that three-year period."
Labour MP Mr Dromey said small retailers in Erdington had concerns about a new supermarket and local residents feared a rise in the amount of traffic.
Birmingham City Council has yet to receive an application for the store in Erdington, a spokesman said.
'Been through a lot'
Earlier this month, plans were revealed for a flagship store for the Longbridge town centre scheme, set to open in 2013.
The project, which is linked to the redevelopment of the nearby MG Rover site, includes 24 new shops and restaurants.
A planning application for the store project was submitted to the council in February, developers said.
Richard Burden, Labour MP for Birmingham Northfield, said: "People in the Longbridge area have been through and awful lot in the last few years and yes, they will welcome the jobs and yes, they will welcome the training and so on but they are also going to want to know they can have a say in this."
A public consultation organised by Sainsbury's about the planned store in Dorridge is taking place, although a council spokesman said plans had yet to be submitted to Solihull Council.