Birmingham band The Musgraves on BBC WM Introducing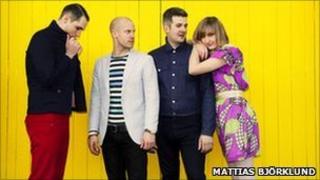 Things are taking off for Birmingham Roots-Pop band The Musgraves.
They have signed a publishing deal, had an instrumental version of one of their tracks featured on a TV advert and released their debut EP.
The band joined BBC WM Introducing at the Mailbox studios in Birmingham for a live studio session.
Lead singer and songwriter Matthew Bennett told presenters Louise Brierley and Brett Birks: "It's going well, hopefully it just keeps on going up."
Advert success
The group, which was signed to independent music publisher Imagem Music last September, has released a four-track EP called Lost in Familiarity.
Talking about the band's highlights so far, Matthew said they had been doing a lot of recording and getting new songs ready for an album planned for early next year.
An instrumental version of one of their songs, Discover Me, has been used as a backing track on an advert.
Matthew said that came about after their publishers 'sent it out to loads of people' in the industry.
He explained how the band got together a few years ago: "We all met around the Birmingham area."
They said they were now working on the band full-time.
Lesley-Marie Turner, who is on backing vocals and plays glockenspiel and violin, agreed: "It's a huge risk but I think the bigger the risk, the bigger the reward."