Wolverhampton development planned instead of Summer Row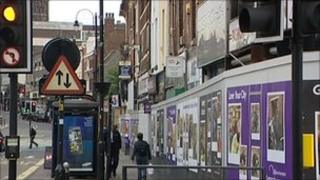 A £13.4m investment scheme has been agreed by Wolverhampton City Council to regenerate empty premises in a shopping area in the south of the city.
In January councillors turned down plans for Summer Row - a £300m development scheme for the site, due to the level of financial risk involved.
The shelved plans would have included a Debenham's store, 85 shops, a cinema, underground car park and new homes.
Councillors agreed the more modest plans at a meeting earlier.
Simon Warren, chief executive of the Labour-controlled authority, said: "We want to start acting as soon as possible to look at some of these properties to see the ones we can buy and we can do something about quickly."
Financial reserves
He said the decision to turn down the Summer Row project was a "bitter blow".
"We have to do something for this area to take some of the pressure off the traders and to make this a better place for the people of Wolverhampton to come and shop.
"This is a priority for us so we are using some of our reserves to finance a loan to enable us to do that," he added.
Wolverhampton shopkeeper Peter Lofty said: "The uncertainty has really been too much for us and our customers would like to know if all the shops are going to be here as well.
"I think from a personal perspective the stress has come to a head. Something's going to be done and we are really hoping that's going to help us all."